Company News
CertusNet and Jiangsu Mobile Finished the First Commercial vBRAS in China
News by C114, (Reported by Liu Dingzhou) BMAN veers gradually in the direction of multi-service network when the number of users connected to BMAN through carriers grows and their business requirements expand. Carriers turn more and more to Broadband Remote Access Server (BRAS) for the management of accessing users and the management and control of user's businesses, and finally, for the appreciation of smart pipes or the precise management of businesses. BRAS supplies flexible access authentication, efficient address management, powerful user management, and a full array of choices of businesses and control functions.
Meanwhile, with the rapid development of fixed line broadband home service, traditional BRAS begins to lag behind, failing to meet the business needs of carriers, which goes in detail like: first, traditional BRAS adopts exclusive hardware, thus it has higher cost of CAPX in the early stage of construction; meanwhile, because its software and hardware are so tightly coupled that manufacturers are locked down, which is a great hindrance to the independent development and evolution of its soft and hardware; secondly, with the access capability expanded,access points of BRAS increased, equipments scattered and integrated management lagging behind, the whole operation of OPEX is running at a high cost.
Thirdly, traditional equipments are inelastic because the exclusiveness of traditional equipment units has rendered it hard to reuse or share the resources of the equipments; fourthly, work load is not shared by BRAS equipments, and unevenness of load is frequently spread over busy or idle hours.; fifthly, the tight coupling of business and equipment has led to long cycle of new business adopted, high cost and inflexibility of business scheduling.
NFV has thus become one of the most popular new technologies among carriers in the year of 2015. The x86 servers adopted by NFV for BRAS network business can bring down cost on hardware and shorten the development cycle by improving programmable levels of its software, which in turn leads to flexibility of business deployment, sharing of resources and ICT integration on the side of carriers.
In deploying edge network, vBRAS builds the cloud platform of vBRAS based on NFV framework at POP where flow converges,the same position with traditional BRAS, and processes business after all access businesses are converged through convergence switches to the physical network interfaces of the virtual network cell equipments of vBRAS.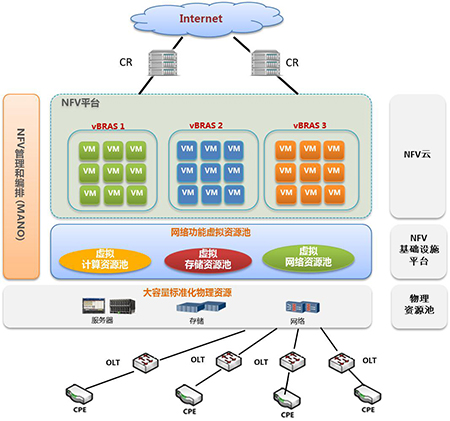 CertusNet has managed to develop vBRAS, the first high performance broadband access equipment, and NFVI, a virtual platform. Its FlexBNG, an elastic broadband access gateway, will help carrierto accelerate its business innovation and, thus, offer new services at greater speed, greater convenience and lower cost, by way of network functions virtualized.
Recently, CertusNethas finished its present net pilot test in Suzhou with Jiangsu Mobile. The results of the online test on web users lasting nearly two months indicates that the vBRAS can fully meet the functional demands of network home broadband business, with all the performance indicatorsmonitored normal and the system run stably, all as expected. During the test, Jiangsu Mobile also made and deployed a scheme to combine the vBRAS and the present BRAS, which was done for the security and stability of the whole network, and, ultimately, for the preparation for the follow-up IT integrated management.
The testers from Jiangsu Mobile said, " Jiangsu Mobile has accomplished two Firsts and two Zeros: the first time to deploy all the functions of BRAS (including the forwarding and the controlling) on equipments based on X86, and the first time to realize the cutover online and commercial operation of large scale users of present net with zero failure and zero complaint, a bold breakthrough and trial."
FlexBNG is a new vBRAS virtual network product based on carriergrade Openstack in line with ESTI. On the basis of open source and opening to all, and through cooperation with OPENFV, HP, Intel, Wind River, Ixia, we provide overallNFV network solutions that are able to be deployed on present nets, satisfying the requirements of end to end architecture, as well as are of high performance, high availability and manageability.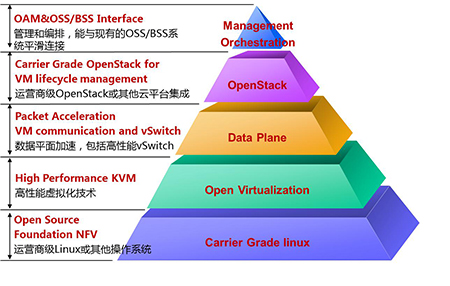 Compared with traditional equipments, FlexBNG is richer, smarter, more elastic and more economic. It supports such telecommunication or the innovated network business as PPPoE, IPTV, VoIP, VPDN, WLAN, MPLS VPN, VPLS, H-QoS, OTT. Its products are applicable to telecom grade metropolitan area network service gateways, large and medium zone network business gateways, campus network business gateways and innovated community and household network business gateways.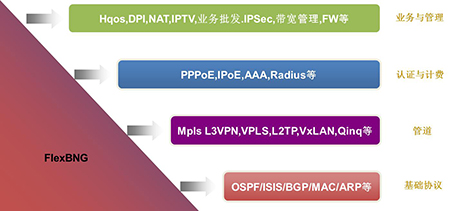 With the help of vBRAS products based on NFV, CertusNet has managed for the first time in China to finish the commercial test on the present net of vBRAS mobile carrier, exploring and commanding new ways, modes and ideas to apply NFV to WOBAN. Next, CertusNet will gradually expand the scale of commercialization on the summery of established results, and, meanwhile, start up the virtual present net test on CPE of broadband users, firewalls, load balancing, all done to assist with the construction of home broadband network and the deployment of new business, and ultimately, to help with the strategic transformation of China Mobile veering in the direction of full business.

About CertusNet
CertusNet Inc. is a world-leading informatization platform and solution provider. As a pioneer and an advocate of Elastic Network and Elastic Services concepts, the company is committed to providing Elastic Network services covering cloud, pipe and terminal for global users, enterprises and government agencies. CertusNet strives to continuously improve user experience, facilitate new services and applications, and help customers generate greater value with its widely trusted Elastic Services.
CertusNet's Prominent Contribution in SDN - Compli...
[BEIJING, Sep. 17, 2015] As a China Telecom cooperation partner at the "New Generation of Network In...
More> >