Company News
First Global Release of CertusNet C Cloud —— an OpenStack Private Cloud Solution Helps Enterprise Access to Cloud
[Feb. 22nd, 2016, Barcelona, Spain]On Feb. 22nd, 2016, in CCIB, CertusNet Inc. officially released her C Cloud for enterprise, a privatized cloud solution based on SDN/NFV, the first one in China, or a cloud data center overall solution incorporating computation, network, storage and NFV. C Cloud runs on OpenStack, a platform that is open and extendible; it is OpenStack updated and optimized according to the application of enterprise; it satisfies the needs of enterprise in deployment, operation and maintenance with its innovation made in relevant realms.



Logo of C Cloud

Traditional IT architecture demands heavy investment of efforts and time on the operation and maintenance of IT infrastructure that costs highly but is utilized inefficiently because of its division of functions, a big waste of resources. And, with the commercial environment rapidly changing, the present IT architecture and its operation and maintenance have lagged far behind the needs of business rapidly changing, and it takes an enterprise more and more to keep its IT infrastructure because the structure can't grow linearly with its load growing. C Cloud independently developed by CertusNet for enterprise is a private cloud solution running on the so far advanced platform OpenStack; It enables an enterprise to cloudize its IT infrastructure at lowest initial cost by incorporating a comprehensive range of techniques like computation and storage fusion, SDN, automatic operation and maintenance, which allows the system, with the scale and business of the enterprise expanding, to expand as flexibly as block building or upgrade according to needs. IT system configured through C Cloud will bring TCO down two thirds, ridding the enterprise of all the frustrations confronting the enterprise in cloudizing its IT infrastructure.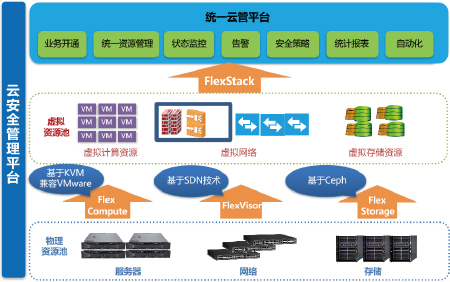 C Cloud Components

C Cloud that has been independent designed and developed by CertusNet is featured, systematically, by easy operation, flexibility and reliability by comprehensively optimizing and strengthening the community version of OpenStack. It achieves the network virtualization of cloud platform by expanding Neutron through the help of CertusNet's key technology SDN, which renders network supplies as quickly as computational resources. Moreover, the NFVI platform supported by CertusNet's key technologies has incorporated, in perspectives of virtual load balance, virtual firewall and virtual VPN, the professional products of companies majoring in load balance, firewall, like Array, NSFOCUS, Topsec, Hillstone Networks, which has satisfied the enterprise grade needs like load balance or security, and has, through help of NFV, rendered these network services quicker, simpler and more flexible. C Cloud is an integration platform combining virtual platform, cloud platform management software, SDN, and distributed storage; it supports automatic search and configuration of hardware, or deployment and expansion of cloud platform simply through addition of nodes, wiring and switch-on, which has simplified IT by one touch to cloud. Comparing with traditional cloud computation solution, C Cloud stands out with features listed as follows:
1. Complete solution of cloud computation platform
• Virtual storage and network realized on the basis of traditional virtual computation.
• In terms of network, providing VPC supported by CertusNet's key SDN/NFV technology.
• Full life cycle management of heterogeneous virtual infrastructures on the could management platform.
2. Maximal protection of investment established
• Compatible with established virtual infrastructure like VMware, Hyper-V, Xen.
• The original network and other exclusive hardwares remain available.
3. Support step by step deployment
• Deployment by steps: to reduce the risk of cloudization, deploy partially for trial before expand it to the whole.
• The virtualization of computation, storage or network can be deployed singly according to practical needs.
• The C Cloud platform is compatible with non-cloud computation, storage and network resources.
4. Independent research and development, extendible and customizable.
• High extensibility supported by mature open source platform.
• Customizable according to needs with its flexible architecture.
So far, C Cloud products have been applied in some of the domestic market of China, including the carriers like ChinaMobileResearchInstitute, ChinaUnicomResearchInstitute, Jiangsu Mobile, Zhejiang Mobile, Zhejiang Radio and Television Group, and some large enterprises like Guangzhou Eshore, Shanghai Zizhu Software Park, Nanjing Xuzhuang Software Park, and its SDDC test and commercial trial have gained approval of its customers.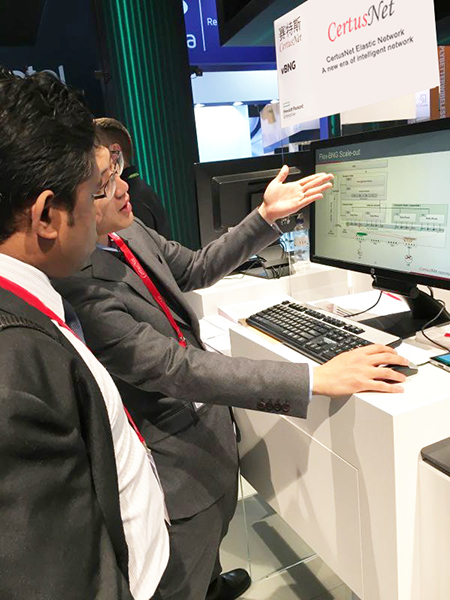 "As the initiator and practitioner of elastic network and elastic service, CertusNet, with its elastic network, has offered a perfect example of the application of SDN/NFV to cloud computation platform." Said Lin Qiang, product director of C Cloud and director of Politics and Enterprise Buisiness Department of CertusNet. "The release of C Cloud solution suggests that CertusNet is entering enterprise grade private cloud market."
"We have our own location as a new emergence in the market. OpenStack, after years of developing and maturing, with its application in enterprise market in particular, has successfully attracted more and more enterprises to try their attempt of cloudization through OpenStack, but, many of them have balked or given up after simply dabbling because of the technical threshold of OpenStack itself and the expertise and complexity of its operation and maintenance. CertusNet began to focus on OpenStack in 2013 when it was still immature with its network service, and soon we came up with a complete solution of virtual network and virtual private cloud on OpenStack supported by our own SDN/NFV. According to the needs of enterprise grade application, we have also managed to incorporate such NFV applications like virtual load balance, virtual firewall, and have begun trial deployment with some of our customers, optimizing and improving our C Cloud incessantly in practice. Meanwhile, we have managed to simplify the operation and maintenance of the platform, cutting down the technical threshold for our customers, by researching, developing or incorporating equipments targeting at solving the problems confronting our customers in real operation and maintenance." Said Lin Qiang." CertusNet is but one of the practitioners of OpenStack in domestic cloud computation market. We are ready to bring, in the co-exploration and practice with our partners, OpenStack closer to the needs of domestic enterprise cloud computation, making it easy to operate by offering one touch to cloud available to enterprises."

About CertusNet
CertusNet Inc. is a world-leading informatization platform and solution provider. As a pioneer and an advocate of Elastic Network and Elastic Services concepts, the company is committed to providing Elastic Network services covering cloud, pipe and terminal for global users, enterprises and government agencies. CertusNet strives to continuously improve user experience, facilitate new services and applications, and help customers generate greater value with its widely trusted Elastic Services.
CertusNet's Prominent Contribution in SDN - Compli...
[BEIJING, Sep. 17, 2015] As a China Telecom cooperation partner at the "New Generation of Network In...
More> >