Company News
CertusNet's Official Global Release in Barcelona of Her NFV of Reliability, Efficiency and Elasticity - FlexBNG Qin
The expansion of internet business, the development of cloud computation and big data in particular, has posed higher demand on network infrastructure, including large bandwidth resources, high reliability and flexibility in resource scheduling. Traditional telecom network appears insufficient and unqualified facing the internet business rapidly changing while CertusNet faces up to it and puts forward the ideology of elastic network orienting at perceptibility, reorganizability and evolutionability, aiming at replacing the traditional exclusive network equipments with more flexible but cheaper virtual network equipments based on NFV.
Ever since CertusNet released in April 2015 her high performance broadband access equipment, vBRAS, the first one in its industry, the staff of CertusNet has managed to bring FlexBNG into maturity after incessant technique research, performance optimization, trial commercial test and on line operation test on users, and now is able to provide advanced functions and features like distributed deployment, large user capacity, high forwarding performance, or high reliability, as we as the basic functions like broadband access and authentification, full series of routers, MPLS protocol, perfect H-QOS and queue scheduling, PIM, IGMP.
In addition to the multi functions offered by ex version, FlexBNG Qin also has the following features:
1.HA
• Telecom grade high reliability;
• N:1 standby redundancy;
• HA for full business;
• Real time link state check;
• Real time state synchronization;
• Non-stop end to end business.
2.Rich choices of northbound interface
• Multiple choices of operation/maintenance interfaces;
• Support advanced management features;
• Support/not limited to such main northbound interfaces like REST/confD/SNMP;
• Support/not limited to such main HMIs like YANG/XML/CLI.
3.Multi DP (Data-Plane)
• Performance and capacity highly improved;
• Port intensity highly improved;
• Protection of redundancy between DP.
4.Service load shared (base on SDN)
• Flexibility in resource scheduling achieved by NFV+SDN;
• Network topology detected by perception module;
• Management of virtual network, resources and traffic realized;
• Flexible scheduling of network resources achieved;
• High efficiency achieved of the utilization of physical network resources.
5.IPSEC VPN
• Voice, video, data, and triple play;
• Security guaranteed by supporting all advanced tunneling protocols, data encryption, filtering/firewall, authorization through RADIUS, LDAP and SecurID;
• Authorization allowed through RADIUS, PAP, CHAP, Tokens, X.509, LDAP and SecurID;
• Redundancy available, ensuring the reliability of link and equipment;
• Dynamic/static routers, and the dynamic router is supported in encrypted tunnel by protocol;
• Management of remote node remotely configured through management software.
6.DPDK
• The efficiency of storage I/O improved by optimizing the memory mapping between physical and virtual equipments;
• Support the total isolation of CPU, avoiding the interference of other processes over the forwarding progress;
• Algorithm optimized of message procedure, ensuring priority is sent to protocol message while cutting down on the expenditure of forwarding;
• Forwarding performance greatly improved through the integration and optimization of flow table.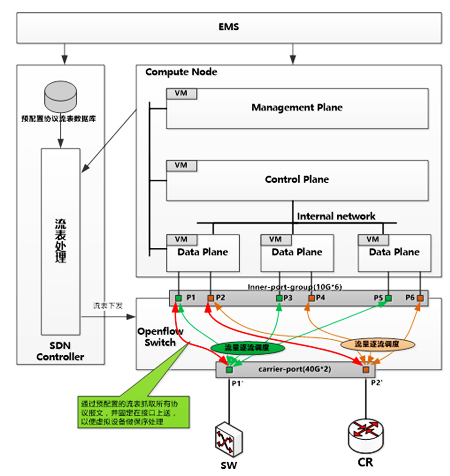 Architecture of CertusNet's NFV products
"As the initiator and practitioner of elastic network and elastic service, CertusNet, with its elastic network, has offered a perfect example of the application of SDN/NFV to cloud computation platform." Said Li Yan, director of elastic network products of CertusNet. "Functionally, FlexBNG Qin has made it up for the deficiencies of former version in scenario, and is able to meet the engineering needs of large scale deployment, expansion and active-standby switch, and, in terms of performance, is dramatically improved compared with former version, which indicates that CertusNet's virtual BRAS has reach the stage of maturity. So we are confident to release this product to accelerate its official commercial application."
Though this world is still at the preliminary stage of the evolution of architecture of NFV/SDV, many carriers have gone about the commercial deployment of NFV after concept validation test and laboratory assessment. CertusNet, being the initiator and leader with the ideology of elastic network and service, has cooperated actively with associations or open source communities like CCSA and OPNFV, and leading enterprises like HP, Wind River, to contribute without stop to the evolution of industry standards and the research on new technologies of NFV, and finally, the development of virtualization. CertusNet will continue cooperation with her partners and other developers like carriers, standard organizations and OTT to build together a win-win ecosphere of NFV.
CertusNet's Prominent Contribution in SDN - Compli...
[BEIJING, Sep. 17, 2015] As a China Telecom cooperation partner at the "New Generation of Network In...
More> >