Company News
NFV Dynamic China Exhibited by CertusNet & China Mobile
[Feb. 26th, 2016, Barcelona Spain] On Feb. 22nd~25th, the cooperation and performance on the level of NFV architecture coexhibited by CertusNet Inc. and China Mobile was a radiant attraction during Barcelona's MWC. The speed and the passion as evinced of China's NFV has managed to impress, considering that NFV has been well stressed with heavy investment by carriers like Verizon Wireless, AT&T, NTT, Deutsche Telekom, or SK Telecom.
Ever since 2015, China Mobile has faced positively challenges brought by NFV by taking comprehensive measures like top-down design, projects introduced, experiments or standardization. CertusNet, as a provider offering core techniques, overall solution and operation service of elastic network, can supply not only solution of virtual access network featured by stable operation and strong customization, but also network security framework featured by multipoint deployment, multilayer isolation and flexible strategy. During the Congress, CertusNet together with China Mobile has put on a show of China that is dynamic, and the vBRAS of CertusNet, as run on the Open O designed by China Mobile, has managed to put on a brilliant performance, bringing into reality the actualization of VNF, the management of VNF life cycle, the realization of topology, and the visualization of utilization ratio of physical and logical resources.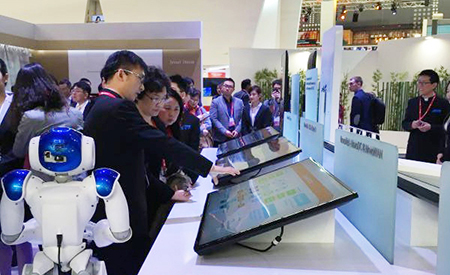 CertusNet and ChinaUnicom cooperate presenting NFV China speed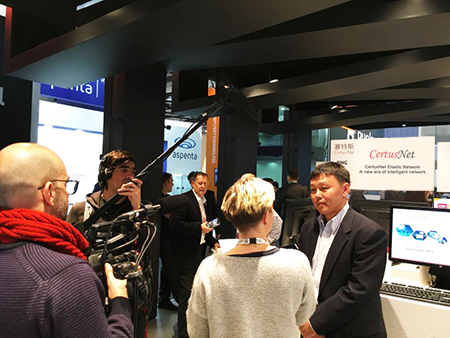 Doctor Zhangshuming accepts TelecomTV interview and shows Chinese company's power of creation
The perfect match of the VNF and VNFM of CertusNet' BRAS and the Open O of China Mobile has enabled it to arrange and manage uniformly on the bottom of WindRiver Titanium or to realize the management of VNF life cycle, which has managed to prove it to the world that CertusNet is the standardization realized in the architecture of ETSI through vBRAS, that it is strongly decoupling, and that it has evinced in the realm of technique and practice the spirit of exploration and the progressiveness of Chinese NFV delegated by China Mobile.
NFV has brought to all enterprises chances and choices of businesses and techniques by creating speedy, flexible and programmed infrastructures. The investment on SDN and NFV during the period of 2015~2020 will, as pointed out by the renowned market investigation company, Research and Markets, achieve a mixed yearly growth rate of 54%, with total yearly revenue at 20 billion dollars in 2020.
On the Congress, CertusNet, overarched by the theme of CertusNet Elastic Network——A new era of intelligent network, exhibited her elastic network and elastic cloud service based on SDN/NFV. Meanwhile, her C Cloud, the enterprise privatized solution of OpenStack, and FlexBNG Qin, the latest NFV product, was officially released during the Congress. CertusNet has managed to put on a show of NFV architecture with China Mobile, sealing the MWC with a perfect end for the exhibition of self-owned brand.
CertusNet's Prominent Contribution in SDN - Compli...
[BEIJING, Sep. 17, 2015] As a China Telecom cooperation partner at the "New Generation of Network In...
More> >