Software Defined Data Center Solutions(SDDC)
Industry Problems
Traditional data center management faces several important challenges: low utilization of hardware resources; inflexibility of hardware resources reconfiguration; and difficulty for large-scale deployment across multiple data centers. To meet these challenges, CertusNet provides the Software Defined Data Center (SDDC) solution.
Solution Overview
SDDC is a private cloud solution for the data center. It virtualizes the storage, computing, and network resources; manages virtualized resource pools; and provides operation and maintenance management interface, tools, and automation for IT management professionals.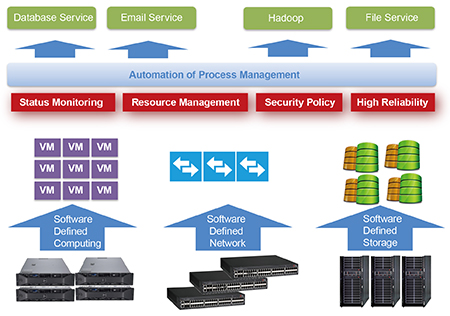 Product Features
· Rapid deployment of enterprise
services and reduced launch time
· Intuitive network configuration,
management, and real-time fault
· Automated operations and flexible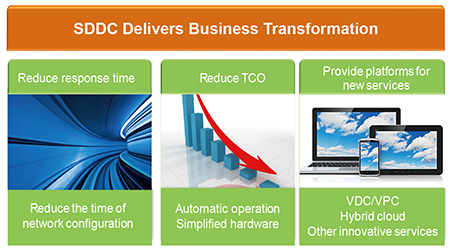 Customer Use Cases
·
Cooperation with Zhongsheng Networks
Zhongsheng Networks offers IDC space, servers and other IT hardware.
CertusNet provides a
comprehensive suite of virtualization, orchestration,
and management solutions. The SDDC
platform has been jointly operated
by Certusnet and Zhongsheng Networks.
·
Cooperation with Shanghai Zizhu Hi-Tech Park
Shanghai Zizhu Hi-Tech Park provides hardware. CertusNet provides a full
range of
virtualization solutions and cloud-based video rendering functions.
This platform now provides VPC, video rendering and other cloud services
for
companies in the Zizhu Park.
·
Cooperation with Xuzhuang Software Park
Xuzhuang Software Park provides hardware. CertusNet provides
virtualization solutions. This
platform provides such services as cloud
desktop, cloud hosting, cloud-based video rendering

and VPC for
What's the 'Internet of Everything' worth? $613 bi...
What's the 'Internet of Everything' worth? $613 billion, Cisco reckons
More> >